NYC Bowling League - Season 4 Bowling · Co-Ed Social
Mon
TueWedThuFriSatSun
7:00pm to 10:30pm
4v4 Coed Bowling
Team Fees

Early Bird

107.0

per player + 4.0 Processing Fee

Regular

117.0

per player + 4.0 Processing Fee

Late

127.0

per player + 4.0 Processing Fee
Free Agent Fees

Early Bird

107.0

+ 4.0 Processing Fee

Regular

117.0

+ 4.0 Processing Fee

Late

127.0

+ 4.0 Processing Fee
NYC Bowling League returns for our 4th season this winter. Games are Mondays in Midtown at Bowlmor on West 44th.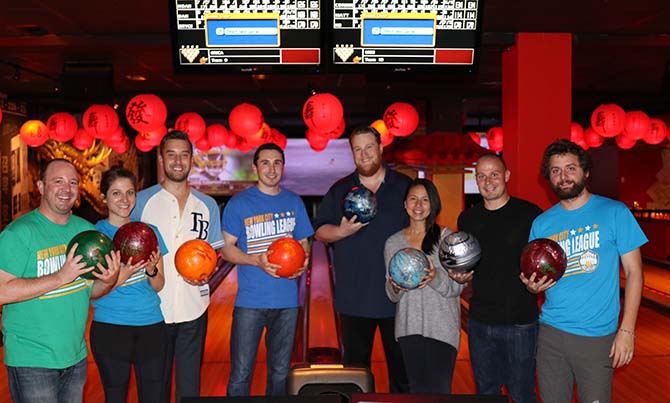 LEAGUE DETAILS

Start Date - January 22nd
End Date - March 12th Finals
Skipped Dates - February 19th (Pres Day)
Times - 7:00 - 10:30 (7:00 and 8:45 sessions). You will be assigned to one session each week. We do field time requests.
Location - Bowlmor, West 44th
LEAGUE FORMAT

NYC Bowling League allows for full teams, small groups, All registration is individual and teams will be between 6 and 8 players. On a given night, your team will bowl between 2 and 3 games.You may elect to go with a smaller roster than 6 but must cover the costs of 6 players so we can cover league costs.
Games are 4v4 Coed bowling. You must have at least and one female player each game and the other three bowlers can be of any gender. We do allow all female teams.
LEAGUE PRICING (Per Player)
Early: Through December 1st = $107+$4 Processing
Regular: Through December 22nd = $117 +$4
Processing
Late: Through January 8th = $127 + $4
Processing
League may sell out so we encourage you to sign up early
REFUND POLICY

You may withdraw from the league up to one full week before the posted start day of the season. After that, we do not offer refunds unless we can replace you with someone on the waitlist. If you sign up during the last week of the season and request a refund prior to the start of the league, you may receive a 50% refund.